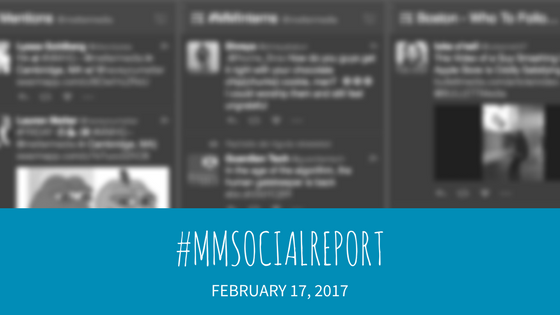 In this week's #MMSocialReport – Snapchat original shows are a thing, Musical.ly is aiming to take over the social media world, you can learn a new language from GIFs, and Facebook updates galore!
1. Snapchat pushes original, unscripted Shows with new A+E Networks deal
by @ingridlunden via @techcrunch
Snapchat's recent news about their parent company's intent to go public has been overshadowed by a new content partnership with A+E that will result in a reality TV show exclusively aired on the app. Would you watch shows on Snapchat?
2. Musical.ly, That Giant Who Is Preparing To Take Over The World
by @Geoffdx via @WeRSM
The startup just launched its fourth app into the App Store and is already making itself known as a powerhouse among its tween and teen users. Next, it plans to transform its business into something more social – will it become another one of our frequented social media apps?
3. Facebook's new job openings posts poach business from LinkedIn
by @joshconstine via @techcrunch
In Facebook's smartest move yet, users can now apply for jobs with a single click. The new features that the social media company rolled out this past week are capitalizing where LinkedIn lacks — in helping lower-skilled workers and people who aren't actively looking for jobs.
4. Giphy wants to help you learn American Sign Language through these new GIFs
by @katiedupere via @mashable
Want to learn ASL? Now's your chance: Giphy cut videos from the popular educational American Sign Language education series Sign With Robert and added text descriptions to make looping GIF flashcards, empowering the deaf community and informing the hearing community in a fun and relevant way.
5. Facebook's new 'Trending Topics' update is here — now with less fake news
by @dlberes via @mashable
Facebook's already controversial "Trending Topics" feature has yet again been updated. This time, it shows each user a standardized list of popular news stories based on a diverse collection of reliable news sources. This is in hopes to finally get rid of fake news on user's news feeds.
Metter Media LLC is a Boston-based social media management company that implements community-based, localized social engagement strategies for small businesses and corporations alike. Need help with your social media? Email Lauren today.