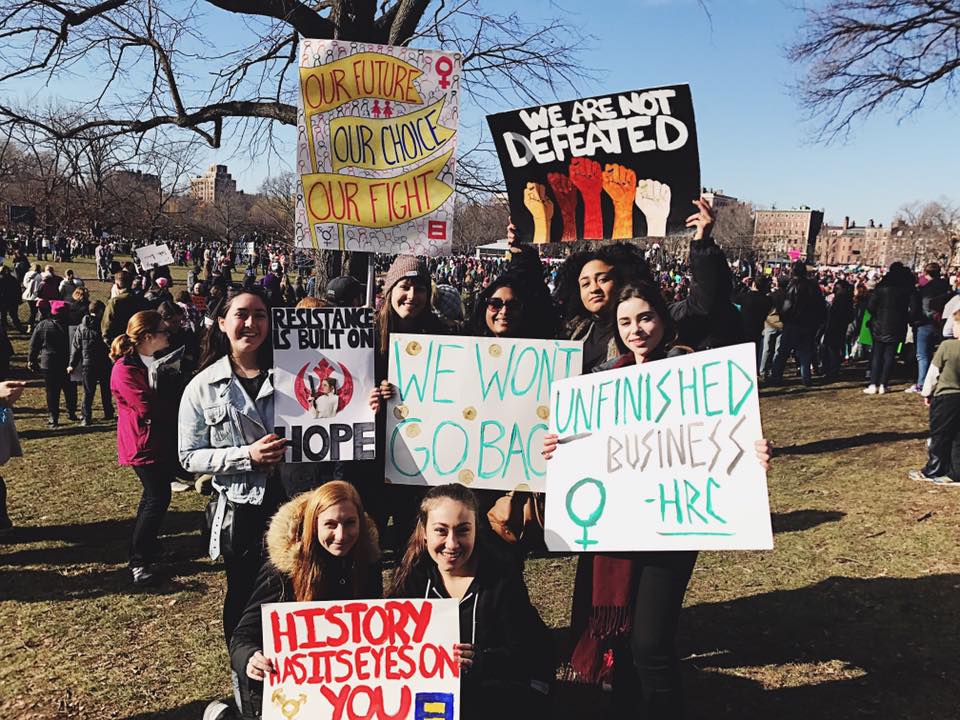 This weekend, America made history with its largest protest of all time. An estimate of over 3 million marched in the #WomensMarch in all 50 states, with thousands joining in cities across the globe. The march, which was kickstarted on social media, led to some of our favorite tweets of all time. Here are some of our picks for most powerful tweets from Saturday.
Want to help support the cause? Click here for a list of action items following the Women's March.

Our Favorite #WomensMarch Tweets:
This is democracy in action. Screenshot of @WCVB's live coverage of #BosWomensMarch: https://t.co/kuifYM90pk @JennyWCVB pic.twitter.com/O1mvZv2Zoo

— ACLU Massachusetts (@ACLU_Mass) January 21, 2017
We wont have access to safe water until 2020!!#WhyIMarch #FlintWaterCrisis #WMWYouth #Flint#MISOTS17 pic.twitter.com/gXOS4HQodU

— Little Miss Flint (@LoveMeLuLu22) January 18, 2017
"Keep your voices loud for Muslim women, black women, undocumented women, LGBTQ women," says #WomensMarch co-chair Linda Sarsour pic.twitter.com/kbC97JF57g

— SPLC (@splcenter) January 22, 2017
Happy to march with 125k+ women (& friends of women) in Boston. We can whimper, we can whine, or we can fight back. #WomensMarch pic.twitter.com/8yCQZBrqpO

— Elizabeth Warren (@elizabethforma) January 21, 2017
So. Well. Said. 👏🏾 pic.twitter.com/J6W0wJXrwg

— Layshia Clarendon (@Layshiac) January 22, 2017
Pre-march photo! #womensMarchAntarctica ❤️🐧 pic.twitter.com/NaRyZaIvsM

— linda zunas 🐧 (@lindazunas) January 21, 2017
To the small woman with the big message, thank you. We have not forgotten. #womensmarch https://t.co/DV4ab7ecw6 pic.twitter.com/gOihd75CJQ

— Dara (@daraoke) January 21, 2017
im crying #WomensMarch pic.twitter.com/DGTRd8XvG8

— Bitch Problems! (@FemaleTexts) January 22, 2017
I'll march @BosWomensMarch CARRYING A LIST OF #WOMEN WARRIORS who have passed on,Tweet me w the name of your loved one #addhername #bospoli

— Ayanna Pressley (@AyannaPressley) January 21, 2017
White women: let's get familiar with feeling uncomfortable. #WomensMarch #WhyIMarch

— Kellyanne Kanye (@mstharrington) January 22, 2017
Low arrest numbers aren't proof that the women's marches were virtuous. They're proof of a different mode of policing.

— Krisandry Harridan (@KHandozo) January 22, 2017
TELL US THE LOCATION OF THE THERMAL EXHAUST PORT pic.twitter.com/D7QpYUoePk

— Caroline (@WearyWithToil) January 22, 2017
#WOMANPOWER
At the NYC #WomensMarch with dear @WhoopiGoldberg pic.twitter.com/DXVOrAEMYs

— Yoko Ono (@yokoono) January 21, 2017
Stop asking if the #WomensMarch 'will achieve anything in the long run.' It already has. Millions of women feel less beaten today.

— Laurie Penny (@PennyRed) January 21, 2017
#WomensMarch is the biggest worldwide inaugural protest in HISTORY. This is the power of our generation. Just let that sink in. pic.twitter.com/1eao0OQzSn

— adam (@plasticrouge) January 21, 2017
The most powerful sign of the #WomensMarch. pic.twitter.com/IFHea1vykN

— Julia Ioffe (@juliaioffe) January 21, 2017
Correction. 90% of flight headed to #WomensMarchOnWashington. #planefullofnastywomen pic.twitter.com/UB4Y2xQwog

— Andrea Addario (@addarioandrea) January 20, 2017
– #ScienceIsReal #LoveTrumpsHate #DiversityIsBeautiful #BlackLivesMatter #WomensMarch #WomensMarchJXN #WMWArt #MSWomenRiseUp #WhyIMarch pic.twitter.com/KfDndGGF5J

— Ariel Blackwell (@blackwhale00) January 21, 2017
Use the privilege inherent in your skin colour and extend that protection to us. Show up. Do the work.

— Man-Hating Agenda (@battymamzelle) January 22, 2017
President Trump, you made a big mistake. By trying to divide us up by race, religion, gender and nationality you actually brought us closer. pic.twitter.com/U7deCCTFx9

— Bernie Sanders (@SenSanders) January 21, 2017
Today, @emilyslist is training hundreds of women from the #WomensMarch to run for office. This is just the beginning. pic.twitter.com/RqtG5c4MaC

— jess mcintosh (@jess_mc) January 22, 2017
Yessss @MsPeoples on #WomensMarch, that viral photo, and how we all should listen to and trust Black women & femmes. https://t.co/2WxXuKbTWd

— cayden (@cayden) January 23, 2017
This thread is called "So you just got home from your local Women's March. Now what?"

Well, some suggestions (peeps, jump in pls):

— Lily Herman (@lkherman) January 22, 2017
Action items:
Follow Along
Find a hashtag that suits your political drive. Some of our favorites include #HeForShe, #YesAllWomen, #LikeAGirl, #AskHerMore, and #StandWithPP.
Follow along with the Women's March call to action, starting with their 10 Actions for the First 100 Days. The first one is to write a letter to your senators about issues you're concerned with. 
Contribute
Start a recurring donation toward an organization that assists marginalized peoples (i.e. Planned Parenthood, First Peoples Fund, ACLU,  GLAAD, or NAACP).
Join a local chapter of Black & Pink, the ACLU, the Muslim Legal Fund of America, the Human Rights Campaign, or another smaller organization that helps local marginalized peoples.
Volunteer
Volunteer at a local women's shelter, women's aid organization, Planned Parenthood, or another organization that is near to your heart.
Make Your Voice Heard
Write letters to your local representatives — including town and district reps — to get them to commit to women-forward, minority-forward, disability-forward and environmentally-forward policy.
Join a political campaign — identify which local offices have openings and reach out to current campaigning politicians (or people you think should be running!),
Start your own political campaign! Not sure how? Contact She Should Run, an incubator that helps women run for local office.
Keep Going
Democracy only works when everyone's voice is heard. Keep the conversation going. Be an active member in your local community, especially for the underserved. We are stronger together. Keep fighting for the future. And whatever you do, don't give up hope!